Features
No case drain required on all SA series models
Counterbalance and pressure relief valves are standard
All SA series models can easily be converted to use the Energi torque management system
One-piece cast alloy bail housing on SA5, 6, and 7 models provide ultimate strength while reducing weight
One-piece removable cast alloy ear section on SA12, 16, and 20 allow for ultimate adaptability
Multiple prime mover mounting options available in standard and custom configurations
Hardened steel connection pin is standard
Heat-treated cast alloy link arm provides full drive articulation
98% efficient planetary gears
Developed to work with a wide range of prime movers (skid steers and excavators)
High torque output in a condensed package
Smooth and quiet transmission due to planetary gear design profile
Stocked in Charlotte, North Carolina
Literature
SA Series Datasheet
SA5-B
SA6-L
SA6-B
SA7-B
SA12-B
SA16-B
SA20-B
SA30-B
Maintenance Manual
SA Series Owners Manual
Specifications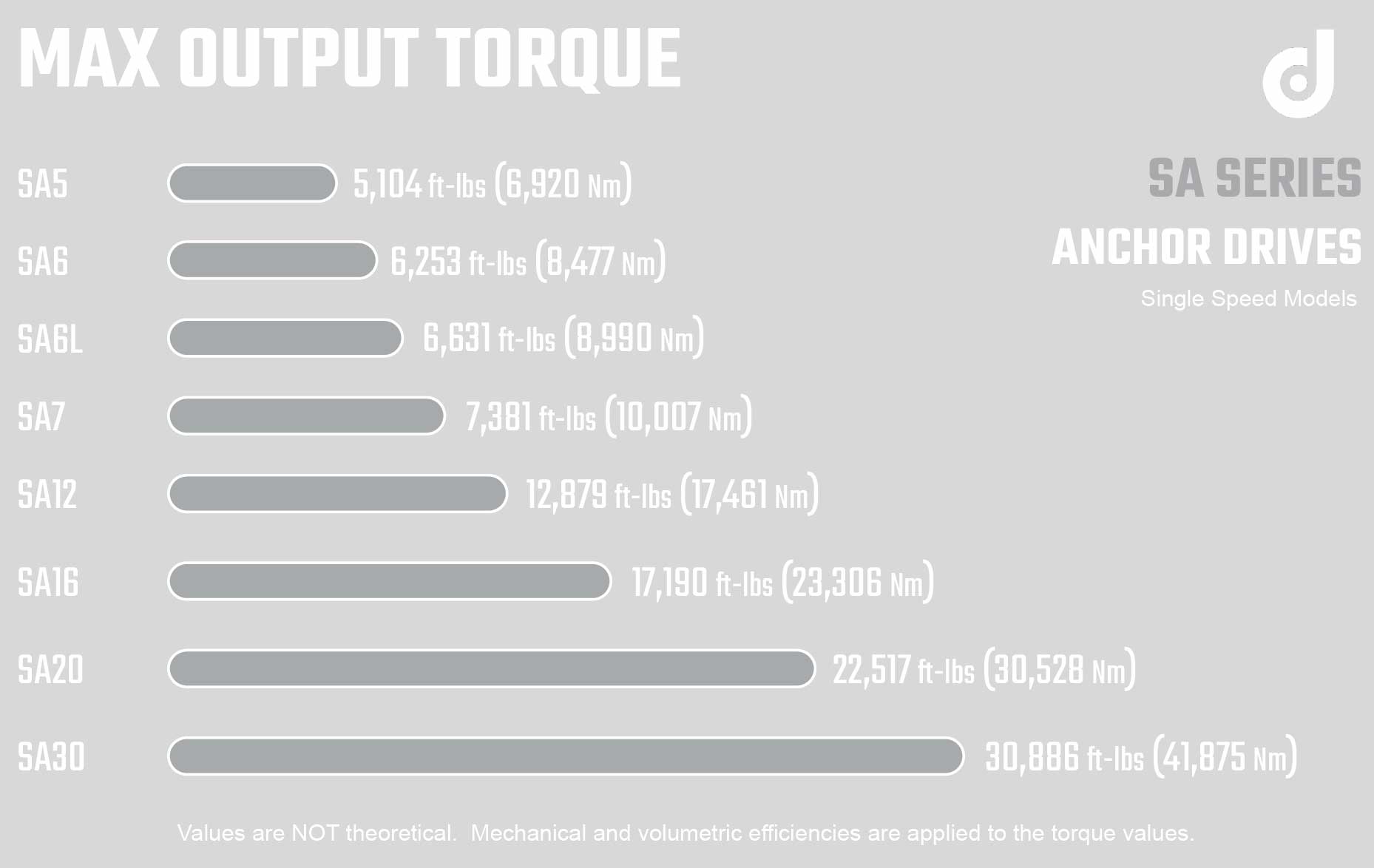 Accessories
Energi Torque Management System
The patent-pending Energi system is designed to help you get the most out of your planetary anchor drive attachment. This groundbreaking system monitors and records real-time helical pier installation data. All installation parameters are displayed on your mobile device using the free Energi app. All recorded data is formatted into an easy-to-read installation report and can be emailed from your mobile device as a PDF.
Click here to learn more – link to Energi System info
Energi 360 Service
The Energi 360 program is a complete preventative maintenance service that calibrates the Energi torque management system and inspects the essential components of your Drive. This annual program includes a full evaluation of the Anchor Drive, enabling you to spend your time operating your Anchor Drive, not servicing it.
Click here to learn more – link to Energi 360 Service info
Prime Mover Mounting Kits
All mounting kits are designed to provide maximum reach and excellent visibility. Dinamic Oil offers mounts to work on most prime movers, including skid steers, excavators, backhoes, and walk-behind loaders. Our mounts are available in a variety of configurations providing our customers with the right solution every time.
Refer back to this page as we regularly add more accessories to complement our product range.