The Energi Torque Management system is designed exclusively for Dinamic Oil Planetary Anchor Drives. Energi is the only available torque management system integrated into the planetary gearbox. This patent-pending technology transmits the torque signal directly from the gearbox. Energi is not a bolt-on product; it is a fully integrated product designed to give the user an accurate, compact, lightweight solution.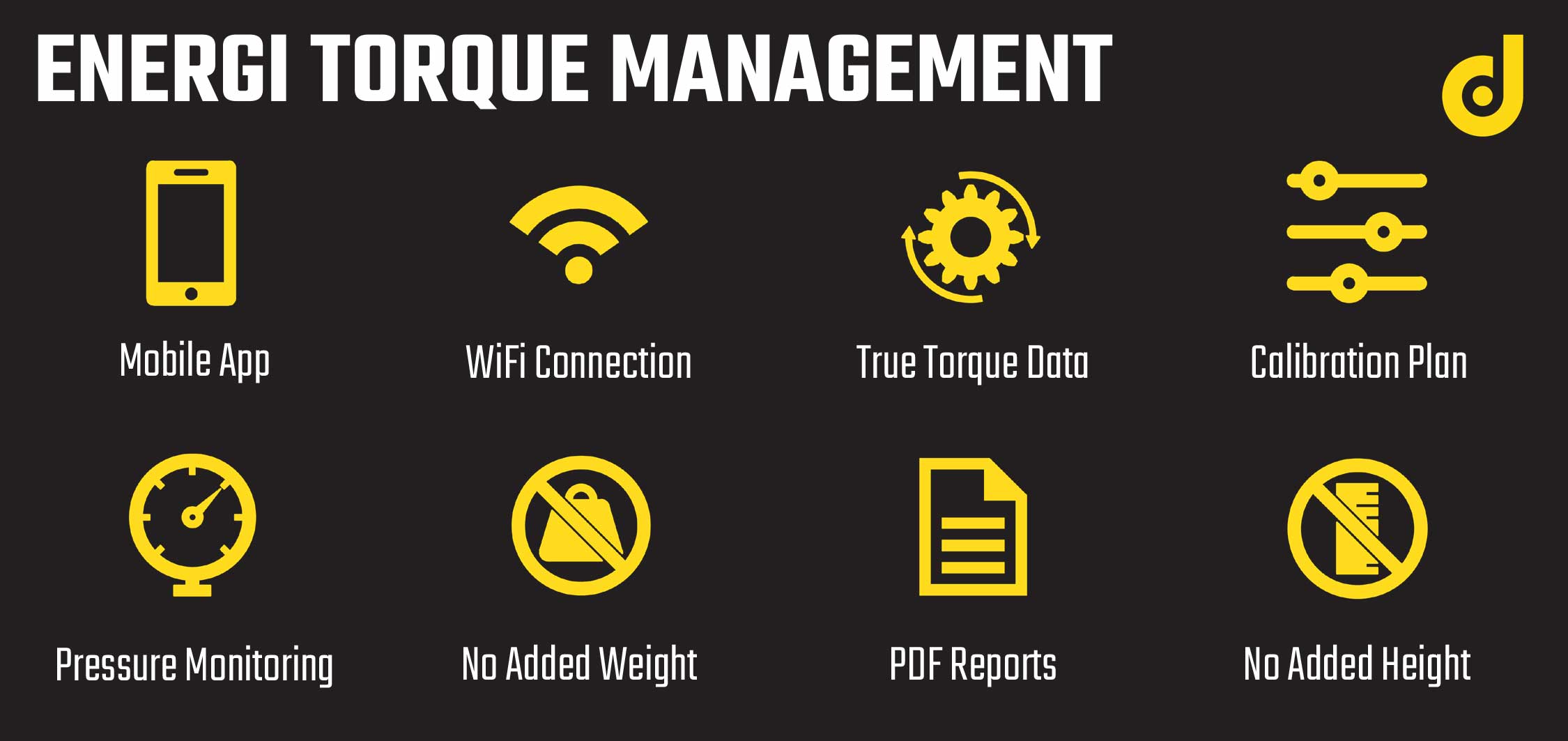 This groundbreaking system monitors and records real-time helical pier installation data with a high degree of accuracy. The Energi app monitors and records:
Torque
Depth
Speed (RPM)
Angle
Time & Date
Drive Model
Differential Pressure
Job and Pile Information
Features
Real-time recording of - time, date, torque, depth, speed, angle, serial number, and drive model
All recorded data is compiled and formatted in easy to read PDF reports
Pressure differential feature provides technical redundancy during operation
Torque measurement accuracy of 99% using reliable embedded strain gauges
Rugged polycarbonate WiFi module housing is IP67 rated
No cables - wireless connection between your mobile device and anchor drive attachment
Two recording mode options – Standard and Select allow for maximum user flexibility
Annual calibration service (Energi Plus) also includes full drive maintenance
Ability to back-up all recoded jobs to the cloud
The torque output signal is not affected by axial or radial loads subjected to the gearbox output shaft
40-hour battery life between charges
Free mobile app is available for iOS and Android devices
Literature
Energi Datasheet
Energi Quick Start Guide
Accessories
Learn more about the Energi system accessories and replacement parts.
Protective Case
Use the protective case to store the WiFi Module when not in use. This hard case has room to store the module, cables, and charging cord.
Replacement Cables
Replacement speed and torque sensor cables are available and come complete in the correct lengths per Anchor Drive model.
Charging Cord
Used to charge the WiFi Module. 12V charging only.