Our RE Series of planetary gearboxes are compact and extremely efficient at 98% efficiency per reduction stage. The RE series is available with a wide array of input and output accessories. The torque ranges of the RE Series extend from 740 ft-lbs of nominal gearbox torque to 59,200 ft-lbs.
Features
1, 2, 3, 4, 5 or 6 reduction stages available with various ratios
Modular design allows increased torque ratings in the same frame size
Multiple output shaft configurations include male, female, hex, cylindrical, splined and hollow
98% efficient planetary gears
Numerous input configurations, brakes, couplings, high-speed shafts, PTO
High torque output in a condensed package
Circular bolt hole mount for improved rigidness
Smooth and quiet transmission due to gear design profile
Stocked in Charlotte, North Carolina
Literature
Gearbox Catalog
Maintenance Manual
We are a global company and provide our maintenance manuals in multiple languages. Please scroll through the document until you find the appropriate section.
Specifications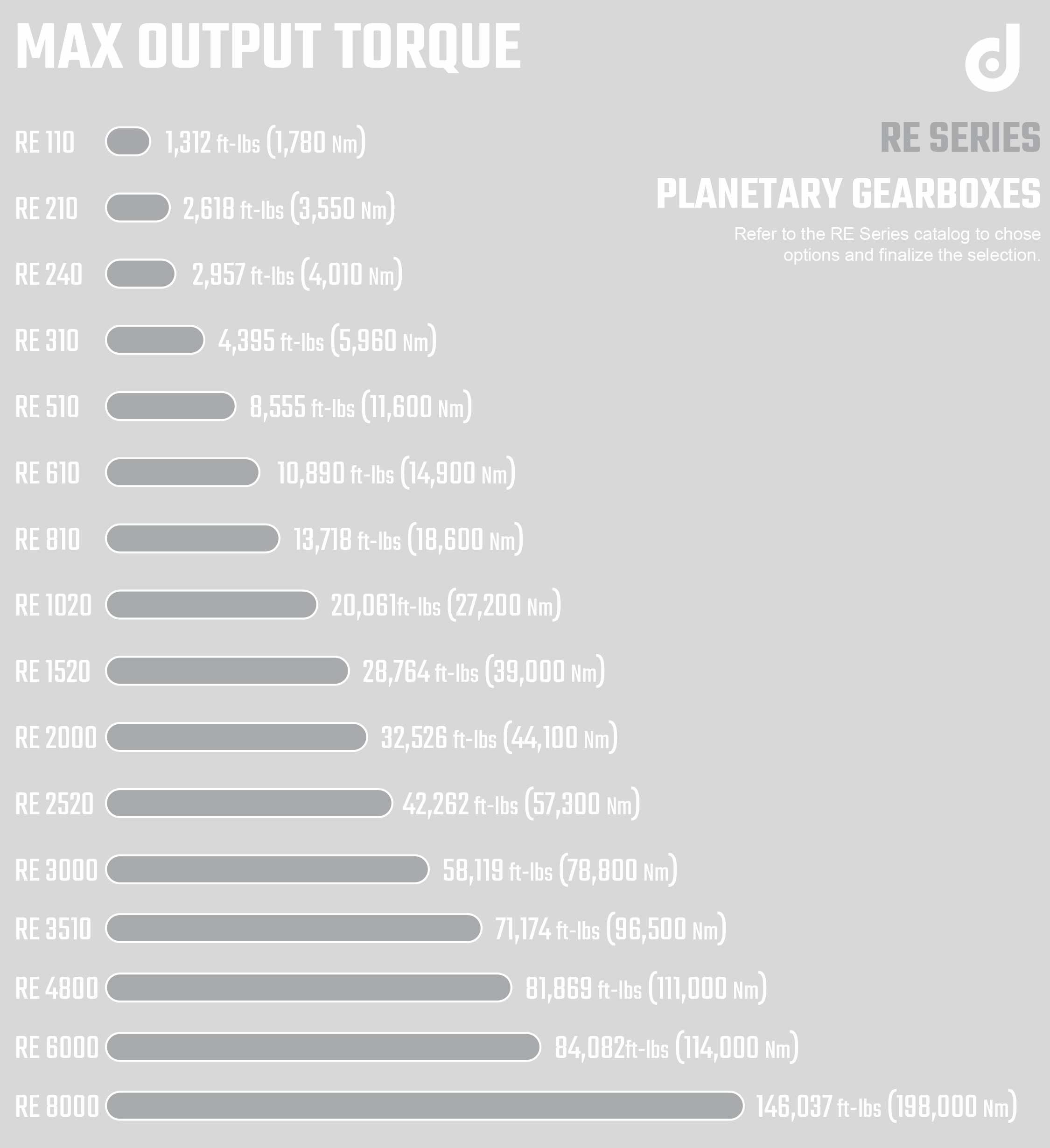 Accessories
Every application is unique and has different requirements. Our gearboxes are designed to accommodate a variety of accessories to ensure maximum efficiency and productivity.
Negative Static Multi Disc Brakes
Dinamic Oil designs and produces all of our own wet negative static multi-disc brakes in house. The brakes are optional accessories for our planetary gearboxes and winch drives and offer a wide range of torque ratings. Brakes can also be configured as "dry" brakes, that allows them to function at increased input speeds without overheating, others can accommodate sprag clutches. Each brake is 100% tested to ensure the rated braking torque is verified.
NEMA And IEC Electric Motor Inputs
All of our RE and GB Series Gearboxes come with optional NEMA and IEC Electric Motor Inputs. The frame sizes vary from NEMA 56 to 365 and IEC 71 to IEC 355. Electric Motors can be mounted directly onto gearbox and adapted to inline or bevel configurations.
Foot Supports
All of Dinamic Oil's RE and GB series of planetary gearboxes come with optional cast or fabricated foot supports. The modular and robust design allows for easy field installation.
Torque Monitoring
Dinamic Oil's new Torque Monitoring system provides real-time torque feedback from within the gearbox, thus eliminating the uncertainties and errors inherent to pressure-based or external load cell designs. Strategically placed strain gauges inside an intermediate flange offer accurate and repeatable results while still maintaining the same overall dimensions as a standard gearbox.
Features:
Output Signal: 4-20 mA
Direction Sensing: 4-12 mA Clockwise, 12-20 mA Counterclockwise
External 'zeroing' circuit available
IP67 Rating
Advantages:
The system can be installed on existing Dinamic Oil gearboxes depending on the size and composition.
The output signal can be manipulated to eliminate errors caused by material elasticity or temperature.
The output signal is not affected by axial or radial loads subjected to the gearbox output shaft.
Other accessories include:
Torque arms
Shrink discs
Two-speed inputs and disconnects
Water cooling jackets
Refer back to this page as we regularly add more accessories to complement our product range.