Dinamic Oil's recovery winches are designed with the customer in mind to ensure ease of use from installation, use, and maintenance. The series features independent high-efficiency planetary gears, a cast iron drum, and structural steel supports. The recovery winches come complete with a mechanical drum release mechanism, negative static multi-disc brake, hydraulic motor, and control valve.
Features
Support structure can be adapted to meet various installation requirements
Standard cast iron smooth drums
Hydraulic over-center valve prevents the motor from losing control of the load
Optional cable fairleads and cable tensioners
Under or overwound, CW and CCW directions
Drum free spool feature allows the drum to rotate independently, allowing manual cable release
Optional hydraulic or pneumatic drum free spool feature
Hydraulic orbit motor and control valve included
Negative static multi-disc brake
98% efficient planetary gears
Smooth and quiet transmission due to gear design profile
Low profile design for compact installation saves weight and space
Dynamic Hoist Testing
To ensure all of the winches are field installation-ready, we dynamically test every winch prior to shipment. Testing confirms your winch will work as designed, every time. The test process consists of winch installation on our multi-configuration test bench, cable spooling, load selection, and test cycle.
Benefits of dynamic testing include:
Every winch assembled or repaired is subject to dynamic testing
Ensures product is ready for use as soon as you install it
Used for custom and prototype testing
Ensures counterbalance valves are configured properly
Line Pull verification by pressure (PSI)
Line Speed verification by flow (GPM)
Test certificates available by serial number upon request
The system can provide 50 GPM and 4500 psi, and the computerized control center allows us to set a relief pressure or flow rate and is pre-configured for prototype or production hoists.
Test procedure includes:
Static and dynamic seal test
Brake hold test
Sprag clutch test
Ascent and descent under 50% load
Verification of line pull and speed at given PSI and GPM
Log test results by serial number
Literature
Winch Catalog
Maintenance Manual
We are a global company and provide our maintenance manuals in multiple languages. Please scroll through the document until you find the appropriate section.
Specifications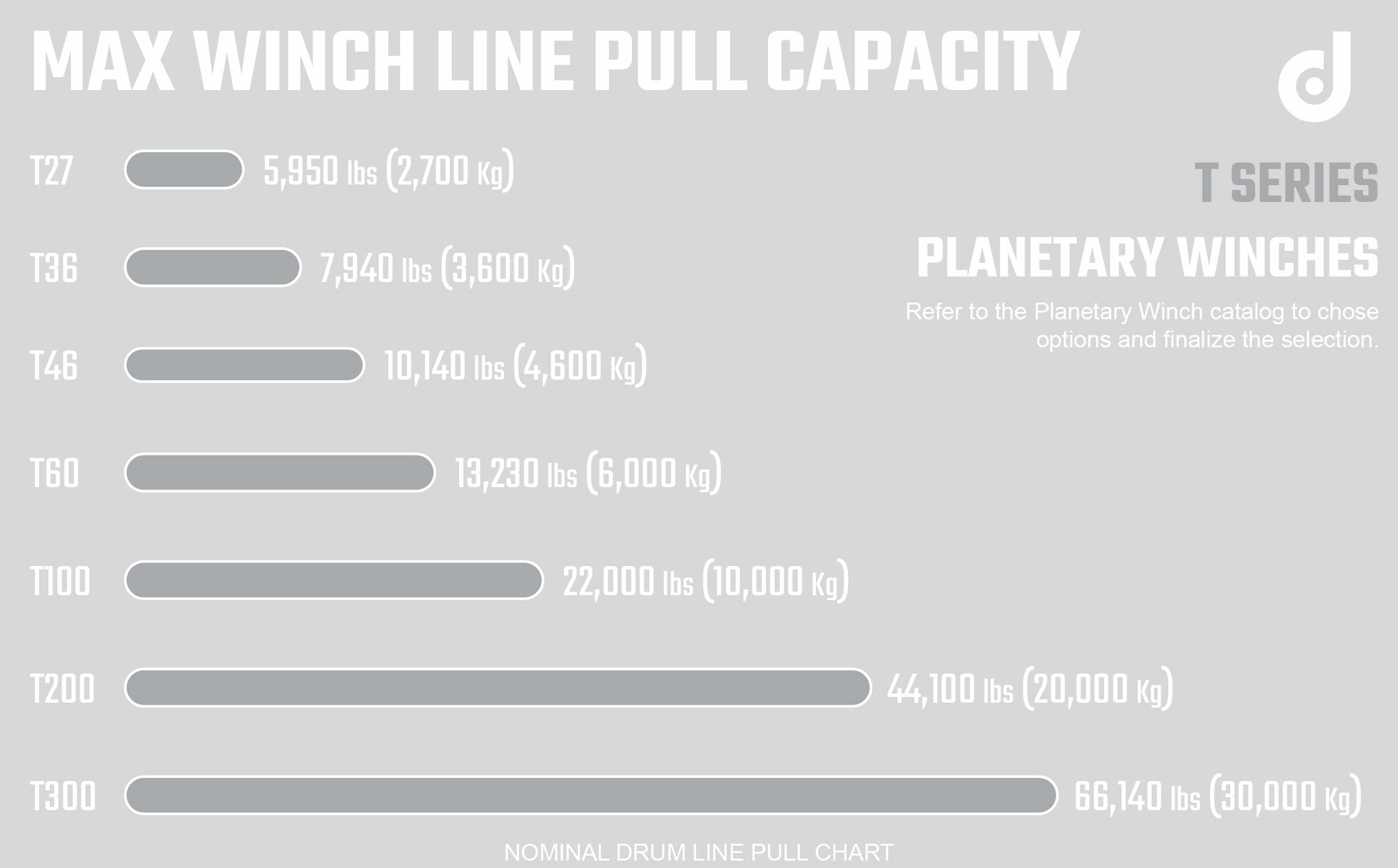 Accessories
Every application is unique and has different requirements. Our hoists can accommodate a variety of accessories to ensure maximum efficiency, safety, and productivity.
Cable Tensioners
Cable Tensioners are optional accessories that assist with cable spooling and can help to extend the life of your cable. The tensioner is composed of rust protected steel and nitrile rubber rollers running on high-efficiency spherical bearings. This accessory is proving to be increasingly popular with customers who look to improve cable spooling under no-load conditions.
Cable Tensioner features:
Rust Protected Steel and nitrile rubber ensure a long lifetime
Improves spooling
Easy to install
Cable Fairleads
Cable Fairleads are optional accessories that guide the cable and stop it from moving laterally. The fairleads are welded metal structural components with horizontal and vertical steel rolls mounted on self-lubricating bushings.
Hydraulic or Pneumatic Drum Free Spool
This mechanism makes drum rotation independent and can be controlled hydraulicly or pneumatically. Free spooling allows the wire rope to be pulled off the cable drum by hand.
Wire Rope and Wire Rope Installation
Dinamic Oil can provide the appropriate wire rope and also install it on the winch as a value-added option.
Refer back to this page as we regularly add more accessories to complement our product range.